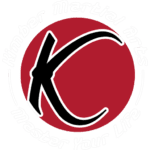 DeLand Martial Arts Birthday Parties, Now Available!
Give Your Child the Karate Birthday Experience of a Lifetime! FREE Upgrade to Board Breaking Party Package! LIMITED TIME ONLY!
"OMG it was a blast!" Our amazing Kids Martial Arts birthday parties are now available in DeLand! Give your child and their friends an awesome time — and create incredible memories! Everything included: 1.5 Hour Birthday Party $300 (Up to 15 guests, includes pizza and soda) Book now and get FREE goody bags and ninja headbands for all guests ($100 Value) Fill out the form below to
Get Your Birthday Pass Today!
WARNING: Offer Expires In… Days Hours Minutes Seconds
GET MY CHILD'S BIRTHDAY PASS!Only [11] Passes Remaining!
The Ultimate Kids Birthday Party
Our parties are SUPER FUN and come with a one of a kind experience kids love! You'll get a fast, action packed martial arts class that's infused with exciting games of skill! Parents from DeLand, Deltona and Orange City LOVE our Martial Arts Birthday Parties!
Action-Packed and Ridiculously Fun!
Your child and their friends will kick, punch, and jump their way through an exciting martial arts adventure here at Kimber Martial Arts in DeLand! The best part: Kids need exercise now more than ever! We help them get out all that excess energy in the party! We keep them entertained the whole time, so you can relax!
Hey, Parents! Take a Load Off! We've Got Everything Covered.
When we say we take care of everything, we mean it. Because our parties here in DeLand are so engaging, feel free to help out as much as you'd like… or go enjoy a cup of coffee in our lobby with the other parents!
Give Your Child the Karate Birthday Experience of a Lifetime! FREE Upgrade to Board Breaking Party Package! LIMITED TIME ONLY!
Hurry up!
Only [11] Passes Remaining
GET MY CHILD'S BIRTHDAY PASS!Only [11] Passes Remaining!
"They have the
BEST birthday parties!
My oldest wants his 8th birthday there, and he's already talking about it. The staff is excellent, and I could not recommend a better place for your kids!"

"These people absolutely love what they do and it shows.
The pride and excellent customer service and teaching here is amazing.
"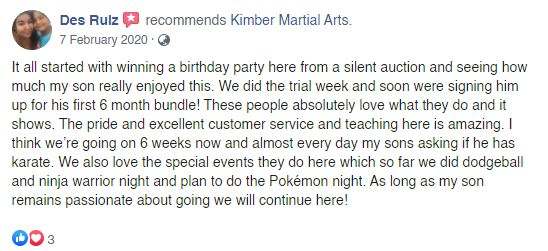 "
Its fun and the staff is great, good for kids!
"

"
We love how great they are with our daughter
and how much so loves going to Kimber."

Frequently Asked Questions
Most frequent questions and answers about our Children's Martial Arts Program
Will My Child Become A Bully?
A specific part of our preschool and kids martial arts classes at Kimber Martial Arts in DeLand is teaching respect, and teaching when to use their new self defense training and when to NOT use them. We find that our students become more confident to stand up to bullies. And have more humility and kindness to others though their martial arts lessons.
Do Parents Need To Stay?
We don't require parents to stay during classes. However, we do find that parents who get involved with their kids martial arts lessons, truly build a solid connection as they see their child grow in confidence and skill as they progress through their belt ranks. And building strong family units is important to us at Kimber Martial Arts for our DeLand community.
What Do I Need To Bring To My First Lesson?
Make sure you wear comfortable clothes you can do sport in! Not really suitable to practice kicks in a skirt.😳 Be sure to bring a water bottle to your martial arts classes. You will find Kimber Martial Arts in DeLand have martial arts classes for kids and adults that are a great workout and lots of fun! Most students are grinning from ear to ear by the end of the class. I am sure you will be too!
My Child Has ADHD, Will Martial Arts Help?
Yes! One of the great things about martial arts classes, is that it's an individual sport, done in a group environment. We find all our students improve in their focus, self control, discipline and social skills. But the best part is…. They don't even realise that is what our highly trained Kids Martial Arts Instructors are actually doing. They just think they are having fun! The best way to find out for yourself, is to take advantage of our limited time offer. You'll find our team so helpful and dedicated to helping your child become the best version of themselves. Book in now! You will be glad you did!
Are Parents Allowed to Watch?
We encourage parents to watch their children in their kids martial arts lessons. We love parents getting involved! And so do their kids. Even better… join into some of our martial arts classes for adults. Your kids will love that you have something in common. It will build a strong family bond! Additionally, if you wanted some 'me-time'? Simply drop them off, and go grab a coffee. They will greet you with a huge smile when you return, because they had SO much fun!
My Child Is Not Athletic, Will They Feel Left Out?
Not at all. You will find that martial arts classes are the PERFECT sport for kids who are not good at sport. Kids martial arts classes really are an individual after school activity, that they do in a group. The journey from white belt to black belt is different for each student. But what is the same…. They improve co-ordination, balance, motor skills, focus and discipline. Plus, they makes lots of great friends! Our Instructors are highly skilled in teaching martial arts for kids. Really… It's their PASSION!
My Child Is Addicted To Computer Games, Will This Be Suitable?
This is probably the BEST kids activity for children who sit a lot! Getting them active, without them realising they are learning, is our skill. Kicking and punching pads is such a great stress relief, that kids blossom in all areas – because of their martial arts training. Many DeLand parents find that once their kids start martial arts classes, they see a happier, more social child develop right before their eyes. You'll be glad they started classes! PLUS…. Most kids LOVE being ninja!
Fill out the form below to get your Birthday pass today!
WARNING:
Offer Expires In… Days Hours Minutes Seconds